MPAC's Automated Valuation Model Celebrates 20 Years!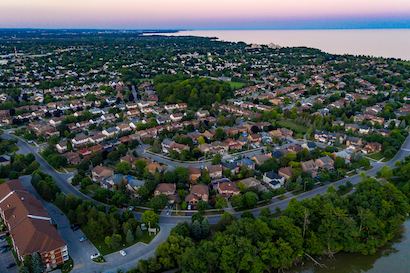 This year marks the 20th anniversary of MPAC's Automated Valuation Model (AVM). MPAC's AVM provides instant real-time estimates of market value for close to 10 million residential properties in the provinces of Ontario, British Columbia, Quebec, New Brunswick, Newfoundland and Labrador, Nova Scotia, and the cities of Calgary, Edmonton and Winnipeg.
Over the past two decades, many sectors and businesses have come to rely on our AVM to make smart business decisions, from banks to mortgage insurers, to REALTORS®, and other private and public sector organizations.  
"When we introduced the AVM back in 2001 – a market first – we were thinking about the future and anticipating the ever-increasing rush for instant answers," says Anthony Percaccio, Director of Architecture and Information Systems, and the architect behind the AVM. "By staying agile and innovative, through expanded product offerings, we've maintained our position as Canada's leading AVM provider."
Our AVM takes the guesswork – and much of the legwork – out of property appraisal in a variety of high leverage and high-pressure scenarios. Some real-life examples:
REALTORS® use our AVM products to assist with their comparative market analysis and confirm a home's potential selling price.  
Mortgage insurers see the current value of purchases they are underwriting, reducing the need for appraisals and onsite inspections.
Mortgage lenders depend on the AVM to establish a collateral market position for their internal risk adjudication tools.
Investors and financial institutions keep an accurate record of the value of their portfolios.
Appraisers rely on our Appraiser Assisted AVM service to determine home values.
Homeowners use our AVM to inform their listing price when selling a home privately.
AVM values are continually updated using advanced statistical techniques combined with sound appraisal methodology, but it's the work done every day by MPAC employees across the province that gives the AVM its competitive edge.

"Each team across MPAC plays a key role in maintaining the impartial, accurate data that powers our AVM," says Lee Taylor, Vice-President, Business Development. "From employees at the Central Processing Facility, to IT, to Property Inspectors at the door, , every time data is updated they are contributing to a leading-edge product that helps Canadian businesses."
The AVM is a major contributor to the revenue generated by MPAC. This revenue from our commercial activities helps offset municipal funding and has a direct benefit to Ontarians, saving municipalities more than $100 million in property assessment fees since 2002.
We've come a long way since the introduction of MPAC's AVM 20 years ago and the future looks bright. Most recently, we introduced a retrospective AVM that includes more than 1.6 billion historical valuations reflecting point-in-time state and condition.
"Our Business Development team continues to build strong relationships with our customers, so we can anticipate needs and stay one step ahead of the competition for continued growth," says Lee Taylor. "In partnership with MPAC's leading-edge IT team, we'll continue to innovate and unlock new opportunities to drive value and additional revenue."
For more information about MPAC's AVM, contact:
Heidi Meades
Sales Account Executive
MPAC Business Development

Nick Sarkovski
Senior Manager, Sales – Financial Services
MPAC Business Development