Changes can occur to properties and it's our job to keep information up-to-date and accurate.
Property inspections are one of the ways we regularly review property details to ensure accurate assessments reflect the current state and condition of a property.
In-person property inspections 
In-person property inspections help us ensure that we have up-to-date information about your property and that its assessment is accurate. We may send a property inspector to your home if:
A building permit has been issued by your municipality because your home has been newly built or has undergone renovations/additions.
There is a sales review because you recently purchased your residential property.
You have submitted a Request for Reconsideration.
You have filed an appeal with the Assessment Review Board.
We're carrying out a neighbourhood inspection, inspecting all the homes in an area. This happens when:

There have been many sales in your area.
We haven't inspected the neighbourhood for many years.
We have experienced a high number of Requests for Reconsideration or appeals to the Assessment Review Board in the neighbourhood.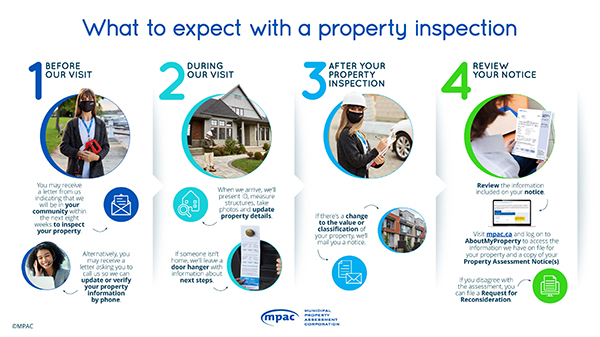 What to expect with a property inspection
Before our visit
You may receive a letter from us indicating that we will be in your community within the next eight weeks to inspect your property.
Alternatively, you may receive a letter asking you to call us so we can update or verify your property information by phone.
During our visit
When we arrive, we'll present ID, measure structures, take photos and update property details.
If someone isn't home, we'll leave a door hanger with information about next steps.
After your property inspection
If there's a change to the value or classification of your property, we'll mail you a notice.
Review your notice
Review the information included on your notice.
Visit mpac.ca and log on to AboutMyProperty to access the information we have on file for your property and a copy of your Property Assessment Notice(s).
If you disagree with the assessment, you can file a Request for Reconsideration.
Other ways we collect property data
We regularly collect property data to ensure accurate assessments. Though on-site property inspections are where you've most likely seen us, we also collect information through: 
land title documents registered at Ontario Land Registry Offices
digital imagery
building permits and plans obtained from local municipalities
discussions and correspondence with property owners
data collection questionnaires