Spring Conference Roundup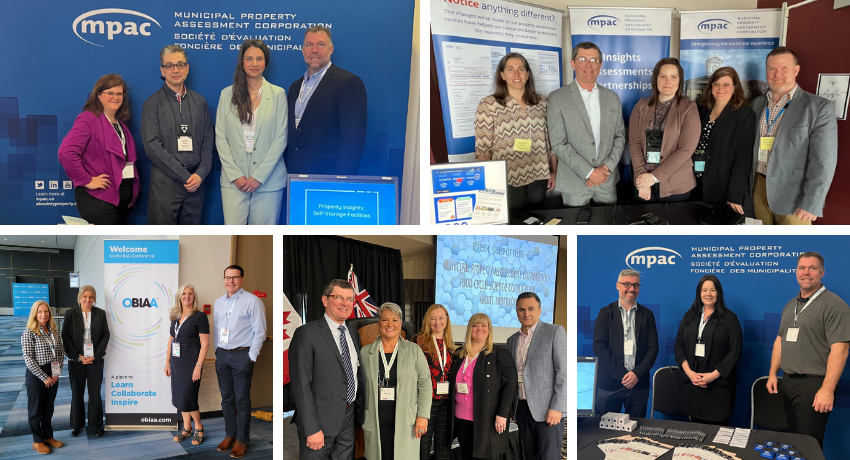 Our Municipal and Stakeholder Relations team has been busy attending various conferences over the past few months!
At the Ontario Business Improvement Area Association (OBIAA) Conference in London, we talked with BIAs about the important work they do in their local communities. We also shared how we support their operational needs with MPAC data and how important it is for us to continue to build strong partnerships over the coming years.
We also spent time at the Northwestern Ontario Municipal Association (NOMA) Conference in Thunder Bay and the Federation of Northern Ontario Municipalities (FONOM) Conference in Parry Sound, where we discussed how we can support communities in Northern Ontario and how they can leverage our expertise to make informed decisions. During FONOM, over 100 attendees joined our learning lunch where we shared more information about MPAC's new corporate data strategy project and surveyed the group to gain further insight into the needs of municipalities.
It was a pleasure to also meet with municipal leaders and decision-makers during the Ontario Small Urban Municipalities (OSUM) Conference in Brant County. We loved learning what matters most to local governments in small urban Ontario.
Our May conferences wrapped up with the Ontario Municipal Administrators' Association (OMAA) Spring Workshop in Niagara-on-the-Lake where our team spoke with municipal leaders and shared the latest information about how we are supporting municipalities through innovative programs and services.
Look for us at the Association of Municipal Managers, Clerks and Treasurers of Ontario (AMCTO) Conference on June 11-14. Be sure to stop by the MPAC booth to learn more about the services we offer to support municipalities.