IT agility: keeping employees connected and responding to changing customer needs during the COVID-19 pandemic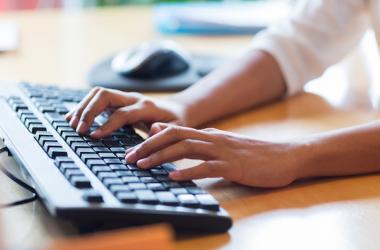 From being one of the first Canadian public sector organizations to move to the cloud in 2013, to becoming one of the few organizations in North America to receive an ISO 27001 Certification in 2019—being a technology leader is nothing new for MPAC. Our leading-edge Information Technology team has continued to be agile, secure and responsive as they support Ontario's property assessment experts.
When the COVID-19 pandemic hit and non-essential businesses across the province were ordered to temporarily close, our advanced IT capabilities had us well positioned to start working in a fully virtual environment. We continue to be in good shape to keep our business going and meet the needs of our customers.
Read on to learn how our team of talented IT professionals keeps our organization working together to serve our customers while we're apart.
Supporting nearly 2,000 employees across Ontario to simultaneously work from home
A lot of hard work and coordination from our IT Department has helped make it possible for our team to do our jobs remotely. "It's more than just having a laptop and setting up a secure connection to our network," said Sujit Jagdev, Chief Information Technology Officer and Vice-President of Information Technology. "It's about making sure we can support the entire organization, and being prepared and flexible enough to continue our new way of working together." Sujit says this includes making sure our network can handle the increase we've seen in traffic, shoring up security against new threats, and providing extra technical support for a now fully remote workforce.
No office (temporarily)? No problem.
Right away, the team developed a plan for how to manage hardware issues safely and efficiently. They also enhanced the self-serve options on our internal IT Support site, making it easier for employees to troubleshoot or perform quick system checks from home before contacting IT Support. "We've been able to provide the exact same level of service to employees," said Ivan Marinkovic, Director of Information Technology and Support Services. "While it was definitely all hands on deck, within 24 hours of the Ontario Government's direction to close physical offices, we had 100% of our workforce working remotely."
Finding more efficient ways to share information with our municipal partners 
Our ability to deliver accurate assessments is dependent on collecting and validating property information, and COVID-19 has posed challenges to obtaining documentation needed to capture new assessment for municipalities. Over the last two and a half months, we have been working collaboratively with municipalities on alternate ways to gather information. In early May, we introduced a new online process for municipalities to submit digital building plans directly to us via our two-way information sharing portal.
Several municipalities—including the Township of Loyalist—are already submitting building diagrams and plan information online, providing us with access to critical assessment information. "This new capability has saved our municipality time because we're not looking up and manually printing paper plans for MPAC to review, and now MPAC has more timely access to information that will help us grow our tax base," says Stephen Dickey, Director of Business Services and Township Treasurer.
Agile, cloud-based approach helped teams prepare
Were we prepared to keep running smoothly during a crisis? In short, yes—the shift was all but seamless thanks to robust business continuity planning and our already-developed approach to cloud computing. "Almost 100% of our computing workload is already in the cloud, which gave us the flexibility we needed to scale up our VPN connections and handle the extra bandwidth," said Gopi Balasingam, Director of IT Operations. "From an IT operations and security perspective, it's mostly business-as-usual because we were prepared to support remote work."
The agile approach that underpins all work in IT kicked into high gear to make sure everyone could connect remotely, allowing projects to be managed and work to be completed incrementally (usually in two-week "sprints"), in order to keep pace with change and deliver results in the shortest amount of time. The agile approach is really valuable during a crisis when things are changing daily or even hourly, because it allows for quick shifts. "Unlike an occasional weather event, which may prompt some employees to work remotely, this was everyone at once," said Gopi. "So the agile approach really helped us collaborate and coordinate our efforts to get everyone up and running."
To learn more about MPAC's agile IT approach, check out our recent Amazon Web Services (AWS) case study.
Our evolution continues as we navigate our path forward
We're committed to remaining customer-focused during these difficult times by working with our municipal partners to explore new and innovative ways to support them. Our aim is to create long-term solutions and efficiencies that can continue to be built upon as we return to normal operations.