MPAC Employees Win Prestigious Award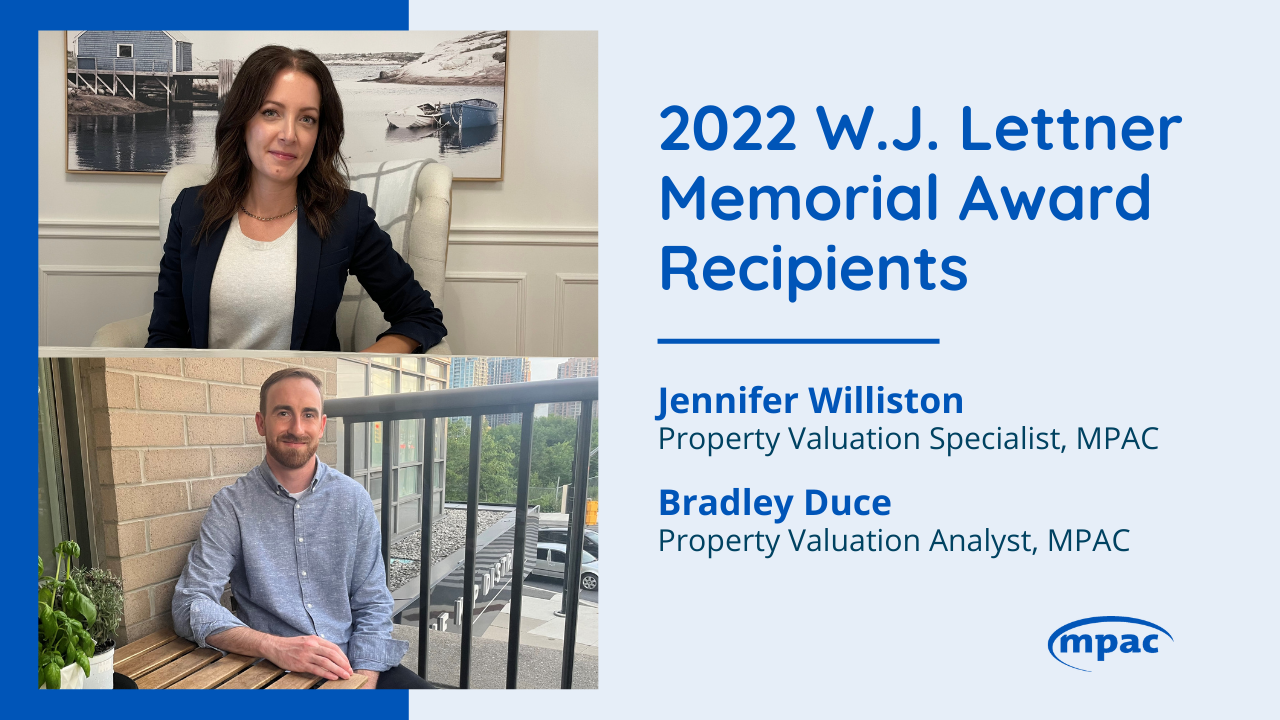 We are pleased to announce that two MPAC employees have been awarded the prestigious W.J. Lettner Memorial Award for outstanding achievement in their respective accreditation programs.
Presented by the Institute of Municipal Assessors (IMA) Scholarship Trust Fund Trustees and Board of Directors, Jennifer Williston, a Property Valuation Specialist in our London office was the successful recipient in the Member Institute of Municipal Assessors (M.I.M.A.) category and Bradley Duce, a Property Valuation Analyst in our Toronto office was successful in the Associate Institute of Municipal Assessors (A.I.M.A.) category .
Established in memory of IMA's Executive Director, W. Jack Lettner, the award – one of their most celebrated – was recently divided into two categories to offer more deserving individuals the opportunity to be recognized.
"We are so proud of both Jennifer and Bradley for their notable accomplishments," says Kristy Robbins, Senior Manager, Learning and Development. "Being recognized by this distinguished panel demonstrates their exceptional work and commitment to professional development which MPAC fully encourages and supports."
When asked what winning this award means to them, Jennifer responded, "Obtaining the M.I.M.A. designation takes a lot of hard work and dedication, and I am absolutely honoured to receive the W.J. Lettner Memorial Award. The process of obtaining my M.I.M.A. has definitely strengthened my skills, advanced my knowledge and broadened my abilities in property assessment."
Added Bradley, "This recognition encourages me to continue to work hard on my journey towards my M.I.M.A designation. I am excited to be enrolled in the Fast Track Designation Program which will assist me in progressing in my assessment and valuation career here at MPAC. I'd like to thank the staff and instructors at the IMA for their outstanding assistance and support throughout. "
MPAC congratulates both Jennifer and Bradley and wishes them continued success in their careers.