Residential Shed Permits up 18%
Amid the continued surge in renovations, sheds were a popular home improvement in 2021, according to analysis of Ontario building permits. We counted 4,223 residential shed permits issued in 2021, an increase of 18% over the previous year.
To require a permit, a shed must be a minimum size, so this category includes large, stylish sheds that have become increasingly popular as separate living/workspace or backyard getaway.
"This is another indication that people were very focused on their homes in 2021," explains Carmelo Lipsi, MPAC Vice President and Chief Operating Officer. "This is an interesting trend to watch, to see if it continues once pandemic restrictions have been lifted for good. Many indicators suggest that working from home will be more prevalent than it was pre-pandemic, and we'll see if that continues to translate to more spending on the home."
The City of Hamilton was Ontario's shed permit leader in 2021, with 137 shed permits, an increase of 19% from the previous year. The City of Ottawa was next with 107 permits, followed by the City of London (101) and City of Vaughan (98).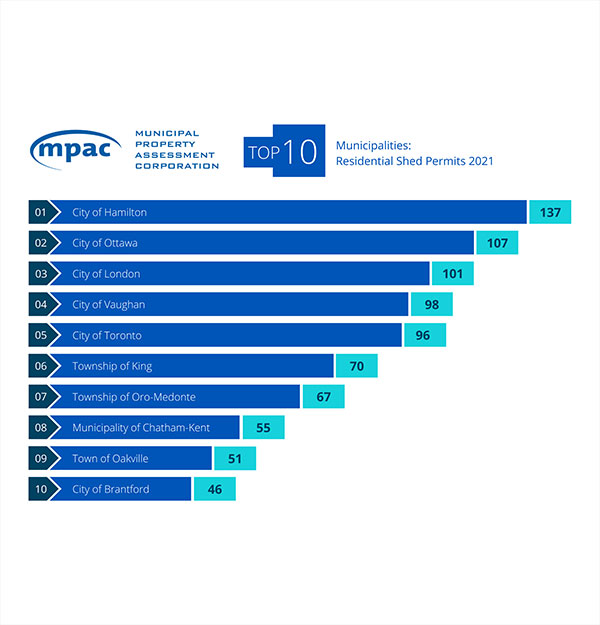 Percentage-wise, the Township of King was the provincial leader, with a 218% increase (70 permits, compared to 22 in 2020). The City of Vaughan was next with a 188% increase, followed closely by the Township of Rideau Lakes (180%) and the Municipality of Thames Centre (140%).